NanoTAC – Self Adhesive Vinyl Flooring
FusionLVT NanoTAC is an entirely new concept for the installation of vinyl floors without adhesives.The FUSIONLVT NanoTAC system resists any lateral movement without the use of glue. This is achieved by using a patented Nano structure that adds superior grip properties to the Vinyl plank. NanoTac is formulated to be non-setting and capable of making a solid but non-permanent bond with the subfloor.
This technique is very different to the common 'Looselay' systems that rely on non adhesive tread pattern to stay in place which, in a lot of installations does not work and then requires the use of vinyl glue to prevent movement.
Although the FUSIONLVT NanoTAC system will resist any lateral movement, the floor can be taken up and re-installed with ease. Our looselay plank is the ideal solution for DIY or professional installations in which quick and simple installation is needed.
Choosing NanoTAC is a healthy choice. By eliminating the need for glue there is no release of solvents or humidity associated with liquid glues.
About Our Wood Designs

We take great pride in the fact that our vinyl planks are the most realistic interpretation of real timber flooring in the industry. Each plank design is hand selected for its unique colour and grain characteristics ensuring that every floor looks the best it can possibly be. Our flooring designs include local Australian species such as the ever popular Blackbutt and Spotted Gums and the latest trends in European Oaks. All of our floors feature unique wood surface embossings as well as natural colour variation from plank to plank which reproduces the beautiful warmth of natural timber flooring. We have designed over twelve colours that will complement all of your design ideas. Nanotac vinyl planks are made from the highest quality materials and use the latest technology to bring you floors that are durable, elegant and refined.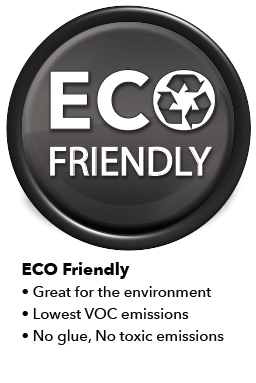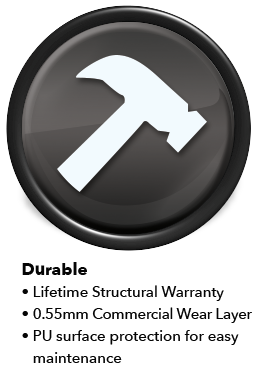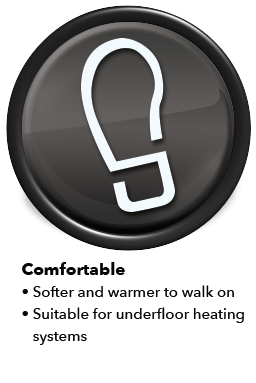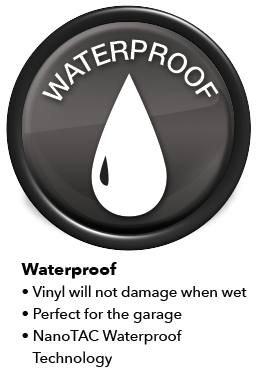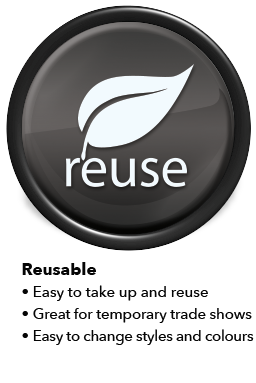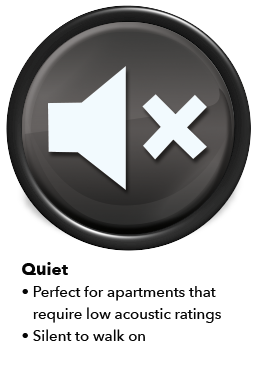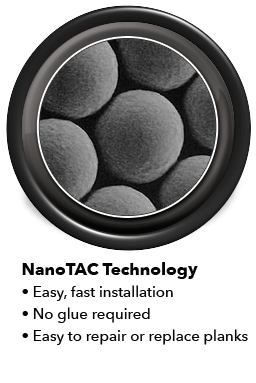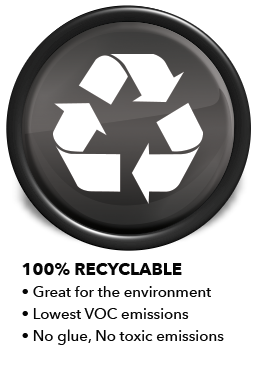 NanoTAC – DIY Garage Floors
Create Your Own Masterpiece

Why should your garage miss out on style? On the cutting edge of technology, NanoTAC is Australia's most realistic vinyl timber looking flooring. It's quiet, comfortable, durable and waterproof.
It also happens to be quick and easy to install by anyone – simply place into position and engage the patented NanoTAC grip technology. If you need to cut a plank, simply score and snap with a Stanley knife to ensure a flawless finish. In a matter of hours, your garage will be completely re-imagined.
Made a mistake? Simply lift it up and replace. 
Unlike looselay vinyl, NanoTAC will not slide. The patented grip technology allows individual planks to resist over 100 kilograms of lateral force, guaranteeing no movement. NanoTAC planks are easily repositioned, are reusable, and leave no glue residue once removed. Individual planks can be replaced anytime with ease, without having to dismantle the entire floor. It's quality, commercial grade flooring that you can actually install yourself. Renovating just doesn't get any easier.
NanoTAC is available in 12 architectural colours, from Australian hardwoods to European oaks. The design potential is endless. Impressive patterns like herringbone or diagonal lay are easily achievable to the DIY novice.
Why you should use NanoTAC Vinyl Flooring in your garage.
• Protects the slab for leaks and can be installed in 1 day
• DIY or Professional install – take your pick
• Only product that can be permanent or non permanent.
• Can be easily uninstalled when selling
• Is reusable
• Perfect for new and luxury car garages
• Can walk in garage with bare feet and walk back into home.
• Looks Awesome.
• Mix and Match with borders.
• Who wants to own a Mercedes and walk through oil and dirt to get into their car.
• Easy repairs – take plank up and replace.
BEFORE

  

AFTER















WHERE TO BUY
PROLINE FLOORS PRODUCTS ARE AVAILABLE ALL AROUND AUSTRALIA IN MOST FLOORING RETAIL OUTLETS.
USE THE STORE LOCATOR LINK BELOW TO FIND YOUR NEAREST STOCKIST.